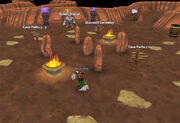 The Sandstone Cave was once a haven to miners for the rocks they could find here. Until the rocks woke up one day, ancient golems took over the cave!
This village is the Towne for the Sandstone Caves Campaign due to be released in May 2011
Characters
Edit
Shops and Forges
Edit
Not yet known
Entrances and Passages
Edit
Ad blocker interference detected!
Wikia is a free-to-use site that makes money from advertising. We have a modified experience for viewers using ad blockers

Wikia is not accessible if you've made further modifications. Remove the custom ad blocker rule(s) and the page will load as expected.