The Lost Expedition

Level

25-30

Experience Cap

33

Unlocking

Free

Previous

Next

Towne

Quests

16

Dungeons

7

Terrain

Snow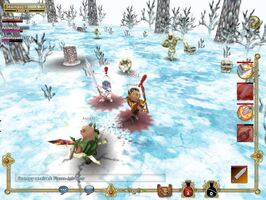 Sanchez the explorer and his great team have gone missing! They were last seen in the Great North Woods on their way to the snow peak mountains. Find out what happened to them.
"The Lost Expedition!" This campaign series takes you to the frozen heights of 'Snowpeak Mountain' where massive ice caves await - filled with evil Frost Knight mercenaries and their vicious Yeti partners!
One of the most impressive aspects of "The Lost Expedition" is the 'frozen' outdoor environment! Snowy roads lined with icy trees and surrounded by frosty fog. Visually stunning!
You will also encounter some very powerful enemies! Frost Archers are particularly deadly (their shots can knock you backwards!) and the Yeti are capable of firing off area-effect freezing attacks - following them up with heavy melee strikes!
Frozen shields, frosty armor, frozen blade weapons, and numerous enchanted weapons that do additional 'Freeze' damage to targets can be found in "The Lost Expedition." Along with icy crossbows and frozen blades you will find some special Enchantress weapons (Ice Wands and Frost Staves).
The towne is Snowpeak Base Camp
The Lost Expedition campaign contains five full dungeons:
Two minidungeons are included:
One towne-dungeon is included: