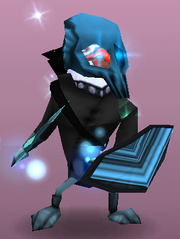 Cyber Void Set II is an item set available for level 50 characters and above. It consists of a Cyber Skull of the Void, Cyber Armor of the Void, a Laser Talon of the Void and a Cyber Wing of the Void which are items earned by completing the Cyber Quests given by the Unknown Entity in the Crush the Keeper! dungeon. It is one of two "Cyber Void" sets, the other being Cyber Void Set I.
Ad blocker interference detected!
Wikia is a free-to-use site that makes money from advertising. We have a modified experience for viewers using ad blockers

Wikia is not accessible if you've made further modifications. Remove the custom ad blocker rule(s) and the page will load as expected.